American Sign Language Class for Beginners
on March 24, 2022, 6 p.m.
Thursday, March 24, 6:00 p.m. - 7:30 p.m.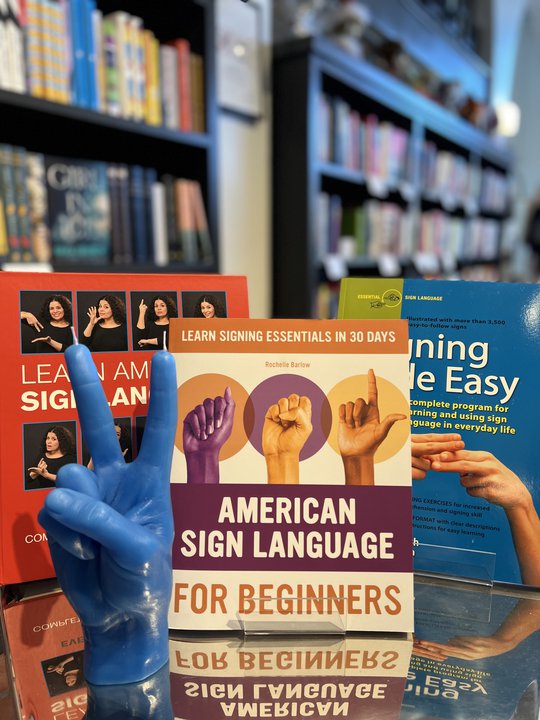 Join us on Thursday, March 24th from 6pm-7:30pm for an introduction to American Sign Language (ASL) class, led by professional instructor and native signer Jana Lollis. Ideal for inexperienced or introductory-level signers, this class offers a brief overview of ASL and introduces its basic vocabulary, structure, syntax, and grammar. Professor Lollis will create a visual-gestural environment that demonstrates basic signs and tips for communicating with people who are deaf and hard-of-hearing.
In preparation for the class, participants are encouraged to select and review one of the ASL for beginners guides that Jana Lollis & TB have acquired for signing novices. Guides are available for purchase at TB. As this is an interactive class with opportunity for individual tutorage from our instructor, space is limited to 12 participants maximum. Those who are interested are encouraged to register as soon as possible using the sign-up form below.
Our beloved hometown is a deaf-friendly community with a long history of deaf and hearing collaboration. This is largely through the North Carolina School for the Deaf (one of only two public K-12 schools serving deaf and hard-of-hearing students in the state). We at TB believe that everyone, especially residents of Morganton and Burke County, should make ASL education a top priority. If you'd be interested not only in this class but also in a series of ASL classes led by Jana Lollis, please let us know in the comments section of the sign-up form below!
*Space is limited to 12 participants max. Parties of two or more must sign up individually.