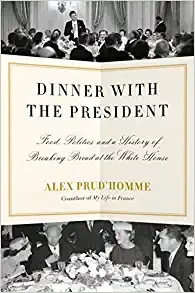 Dinner with the President: Food, Politics and a History of Breaking Bread at the White House
Alex Prud'homme
Alex Prud'homme comes from culinary royalty. His great aunt was Julia Child and he collaborated with her on her book "My Life in France". He is also a respected journalist who in addition to articles for The New York Times, The New Yorker, and Vanity Fair, has written books on terrorism, cloning and fracking. His recent book, "Dinner with the President" combines his interest in food with politics and history.

The book is organized chronologically beginning with Washigton's presidency. Prud'homme discusses the eating habits and tastes of 26 of our presidents and how they used informal meals and state dinners to advance their policies at home and abroad. Along the way, we learn about the most prominent executive chefs and their relationships with their first families with an inside look at the White House kitchen and how it operates. The influence the President has on national food policies especially in recent years is also a prominent theme.

An interesting book for both historians and foodies.